Contemporary Chinese Printmaking Exhibition
Opening night Friday 10 October 2014 at The School of Art Aberystwyth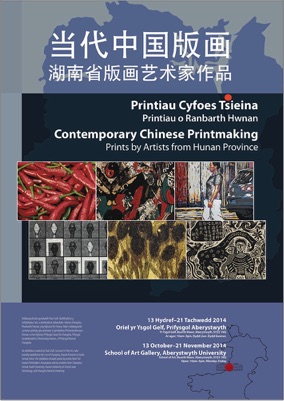 Three generations of artists are represented in this exhibition of Contemporary Chinese Printmaking - including the Masters, Seniors and Junior members of the Hunan Printmakers Association, the authorative body that represents the interests of printmakers in Hunan Province. Many of the artists included also teach at institutions - art schools and universities in Changsha, Hunan and more widely throughout China.
Not surprisingly, woodcut remains the most popular medium and it is practised in both the traditional manner - whereby blocks are inked in watercolour using a brush and also in the Western style - using a roller to ink with oil-based ink. The exhibition also reflects contemporary use of etching, screen-printing, lithography and digital printing - particularly important for some of the younger artists and students represented.
The exhibition was opened by Robert Meyrick, The Head of The School of Art Aberystwyth. During their stay, Professor Luo Xiangke and Liu Jing from Changsha Normal University - gave a gallery talk about printmaking in China - attended by students from the printmaking department. The School of Art are very grateful to Professor Luo Xiangke who generously donated one of his woodcuts to the Aberystwyth University Collection of Prints and Drawings.