Aberystwyth Printmakers at Old College
Provision of printmaking facilities and the development of an independent workshop in Aberystwyth has been an important key aim for the group. In 2005 the group first acquired a small studio space, in what had been the former School of Art at Gorwelion on Llanbadarn Road in Aberystwyth. The studio acquired a large etching press, donated from the School of Art; an Albion, which was bought from the artist Margaret Henry and a small etching press - donated by AP member John Jones.
In 2013 Aberystwyth Printmakers moved to temporary space at The Gas Gallery, a larger space that enabled the group to install a lithography press on permanent loan from Sarah James, and a third etching press that was donated on behalf of the late Pat Clarke from Blaenau Ffestiniog. With the addition of a screenprinting table that had been in storage, for the first time the workshop was able to offer facilities for all print media including etching, stone and plate lithography, relief printing and screenprinting.
In September 2014, Aberystwyth Printmakers moved to its current loaction in Old College, next to the Prom and opposite the Royal Pier. During the last couple of years, Aberystwyth Printmakers has been developing series of regular classes and workshops, including evening classes in etching, relief printing and weekend courses in stone and plate lithography. This has been hugely beneficial, encouraging new members to become involved and at the same time, providing opportunities for some of our members and MA students from at The School of Art to gain good working experience of teaching and running a workshop.
Currently access to the studio is available week-days from 8am - 8pm and on Saturdays 9am - 4pm (during term time only). Members can arrange to book supervised sessions - working with one of our volunteer supervisors. Those members who are experienced and are able to work independently, can apply for a card that provides access. For full details - please consult http://www.aberystwythprintmakers.org.uk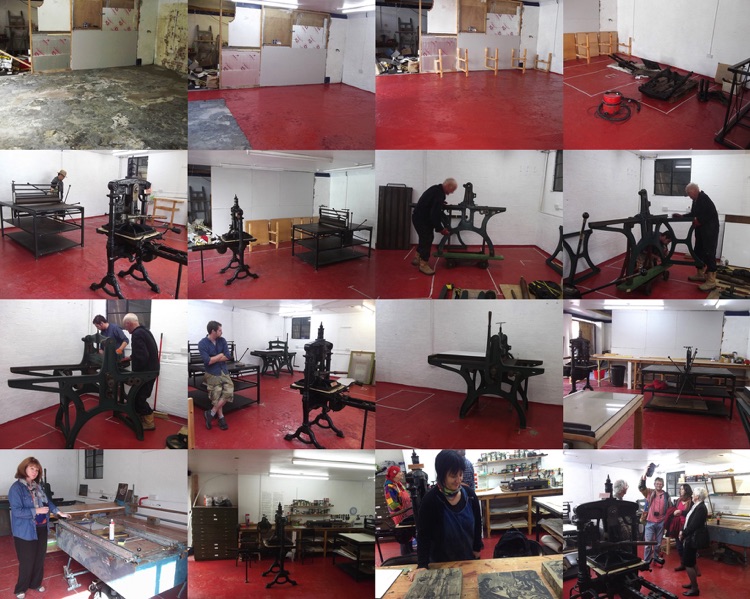 Below: Transforming a Space
Series of photographs showing the transformation of the Gas Gallery Studio and the installation of presses (June - December 2013)