STONE ● PLATE ● GREASE ● WATER
12 March 2007 - 12 May 2007
Museum of Modern Art Wales, Machynlleth
STONE ● PLATE ● GREASE ● WATER - exhibition of International Contemporary Lithography was curated by Paul Croft and opened first at MOMA Wales in Machynlleth on Sunday 11 March 2007. The show later toured to The Bankside Gallery in London in August 2007 and then to The Naughton Gallery at Queens University Belfast in September 2007. In 2008 the exhibition showed at Llantarnam Grange in Cwmbran, South Wales.
The exhibition included a diverse range of printmaking - a selection of ninety lithographs made using techniques of stone lithography, plate and photoplate lithography, waterless lithography and mixed media. The exhibition showcased work by sixty-four artists from the UK, Ireland, USA, Canada, Australia, Argentina and Jordan.
The exhibition at MOMA Wales was opened by Richard Noyce, art writer, curator, critic and author of such influential volumes as Printmaking at The Edge and Critical Mass: Printmaking Beyond the Edge. The show in London was opened by Anne Desmet, who at that time was the editor of Printmaking Today.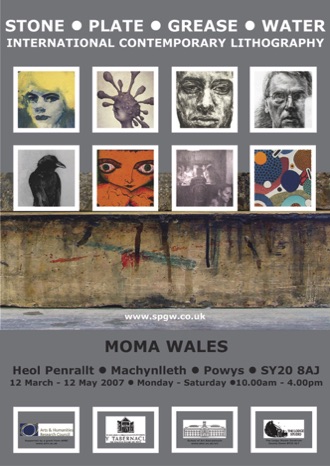 ACKNOWLEDGEMENTS
In the course of curating the exhibition and writing for the catalogue, I met and was in contact with numerous people - all of whom offered me information, help and advice and of course images. Inclusion of contemporary lithographs, many of which had been made during the previous five years, was an important intention from the outset. It was most interesting and gratifying therefore, to see that lithography is still popular and is being used in inventive and imaginative ways to create a wide range of images.
Thanks are due to all those artists who became involved with SPGW. After the final exhibition in Cwmbran, much of the work was donated to what is now called The School of Art Gallery and Museum at Aberystwyth University. This Collection holds important works by British and International artists and as such, it is an invaluable resource for the teaching of Fine Art at the School of Art. Further information about the University Collection can be accessed at http://www.aber.ac.uk/museum/
I wish also to thank Ruth Lambert at MOMA Wales, for her enthusiasm and support for this project. Special thanks are due also to: Gordon Miles at Summit Frames in Machynlleth, for framing all of the work for the exhibition and also to my father at The Lodge Studio, Dundrum - whose support enabled the exhibition to travel to The Bankside Gallery in London.
STONE ● PLATE ● GREASE ● WATER
gratefully acknowledges sponsorship from:



School of Art Aberystwyth
187 Main Street ● Dundrum ● County
Down ●Northern Ireland ● BT33 0LY●
Tel: 028 4375 1281