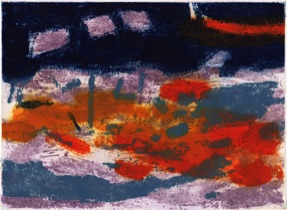 Mary Lloyd Jones
Hydref 2000
Carborundum Print
Rives White Paper
410mm x 510mm
Edition 35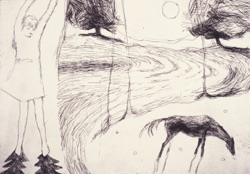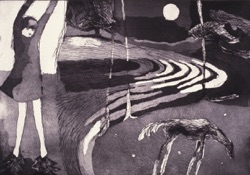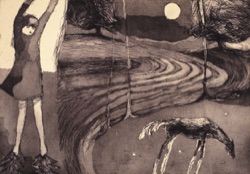 Eleri Mills
Gorffennaf 2000
Etching and Aquatint
Rives Cream Paper
410mm x 510mm
Edition 35
Showing three state proofs
Year of The Artist Portfolio 2000
In 2000 artists Eleri Mills and Mary Lloyd Jones completed prints for the CASW Year of The Artist Portfolio - a project involving twelve artists each making a print for each month of the year.
The carborundum print Hydref (October) by Mary Lloyd Jones involved three plates drawn with PVA and carborundum, inked a la poupée and in relief to print six colours in an edition of 35.
Two etchings with aquatint Gorffennaf I and Gorffennaf II (July) by Eleri Mills were similarly printed in editions of 35 and 15.
Funds raised by the collaborations helped to set up lithography at The School of Art - to purchase stones and presses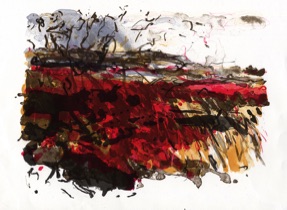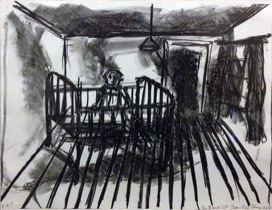 David Tress
Winter at Clegyr Boia 2007
Lithograph
Hahnemühle Paper
306mm x 330mm
Edition 50
Shani Rhys James
The Black Cot 2007
Lithograph
Hahnemühle Paper
406mm x 452mm
Edition 24
CASW 70th Anniversary Portfolio
In 2007 The Contemporary Art Society Wales commissioned the four artists David Tress, Shani Rhys James, Laura Ford and David Nash to make prints for the commemorative portfolio celebrating the 70th anniversary of the society.
Both David and Shani worked on prints at the workshop during the summer of 2007 although only David's print Winter at Clegyr Boia was included in the final portfolio - printed as a five run lithograph from stone and from plate in an edition of 50.
Shani finally produced an etching for the portfolio - working at the studio at The University of Glamorgan. The The Black Cot was printed as a single run lithograph in a limited edition of 24.