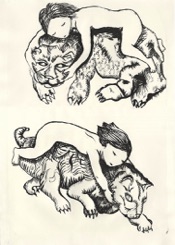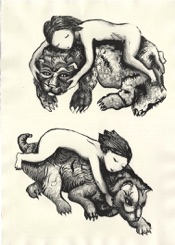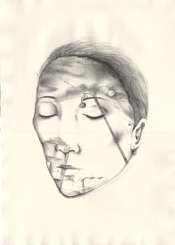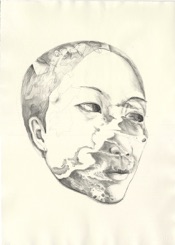 Wuon Gean Ho
'Devour'
Hahnemühle Paper
560mm x 400mm
Black and white proof 2009
Printed from stone drawn with crayon
Wuon Gean Ho
'Devour'
Hahnemühle Paper
560mm x 400mm
Edition 30 2010
Stone was counteretched for additional drawing
Wuon Gean Ho
'Lucid Mask Series 9'
Hahnemühle Paper
560mm x 400mm
Edition 24 2010
Stone drawn using crayon
Wuon Gean Ho
'Lucid Mask Series 10'
Hahnemühle Paper
560mm x 400mm
Edition 24 2010
Stone drawn using crayon
Wuon Gean Ho 2009 - 2010
Wuon Gean Ho has been to Aberystwyth on several occasions since her work was included in the SPGW Exhibition of International Lithography that opened at MOMA Wales in March 2007. In 2009 she came to the School of Art and gave a talk and did a workshop on Japanese vinyl - showing the students how this material can be cut and printed from both intaglio and relief surfaces. She returned in 2010 and again in 2012 - for Beyond The Moon, a major exhibition of her work - printmaking, animation and artists books. For this exhibition she also collaborated with Andrew McPherson from Queen Mary College in London.
http://www.aber.ac.uk/en/art/gallery-museum/exhibitions/beyond-the-moon/
Currently studying at The Royal College of Art in London, Wuon Gean Ho is a multi-media artist who works mainly through relief printing and screenprinting - and across disciplines to produce artists books, performance and animated films. In 2009 she had the opportunity to draw up some stones including the tigers for the print Devour - that was not completed until she returned in 2010.  Two further stones were drawn as part of the Lucid Masks Series - an ongoing project that has involved the animation of a whole suite of prints. http://www.wuongean.com/lucid-mask.html
The two images Mask 9 and Mask 10 were printed as editions of 24.