Contemporary Chinese Printmaking
10 October 2014 – 21 November 2014
School of Art, Aberystwyth
During the second week of October, four artists from Changsha, Hunan Province, China visited Aberystwyth for the opening of the prestigious exhibition Contemporary Chinese Printmaking. Professor Luo Xiangke, Head of Fine Art and Liu Jing, Director of Fine Art, Changsha Normal University, Huang Yuanqiang – Chairman of Chenzhou Art Association and artist Gong Xi from Beijing met with staff and students at The School of Art during their four-day visit to the town.
Curated by Paul Croft, this exhibition is the second in a two-part exchange between Aberystwyth and Changsha and follows the successful showing of 界 Jie (Borders) - a joint-exhibition between Croft and Professor Lu Yu from Changsha Central South University, held earlier at Changsha Houhu International Art Park during May and June.
Comprising of over sixty prints by 29 printmakers and members of The Hunan Printmaking Association the exhibition also included prints by students from Changsha Central South University, Changsha Normal University and The Art School at Hunan University of Science and Technology. Displaying a wide range of images, subject matter and techniques, the work in the show represented three generations of artists and provided a fascinating snapshot of contemporary printmaking from this part of China.
In May, Croft travelled to Changsha for the opening of the first show 界 Jie (Borders). This show, which included 33 lithographs by Paul and a similar number of woodcuts and screenprints by Professor Lu Yu was well received and was reviewed by Artron – a leading website dedicated to contemporary art in China.
During his visit to Changsha, Paul met with printmakers from the Hunan Printmaking Association and was able to select work for the Aberystwyth show. Whilst he was there he gave lectures at each of the three universities represented and taught a four-day lithography workshop to 30 students at CNU. Further collaborations between Aberystwyth and CNU are being planned including an exhibition of International Printmaking in Changsha, late 2015 / early 2016.
If you would like to hire Contemporary Chinese Printmaking for your gallery / art centre please see the Touring Exhibitions Group at: http://www.teg.org.uk/index.php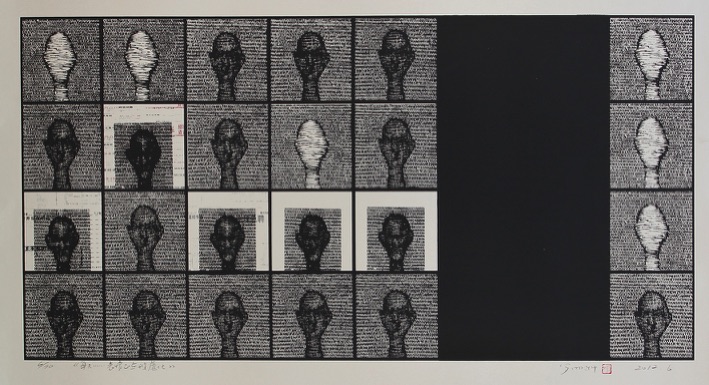 Everyday Portrait
Luo Xiangke 羅湘科
Screenprint from Woodcut
535mm x 1060mm