lexicon series 2008 - 2009
An on-going series of prints associated with alphabets in which collections of symbols and letters are brought together in part-tabulated form.
The Machine Stops: Inkjet My Foot: Lexicon Series: Tarn was completed for the international portfolio The Machine Stops. Based upon the short story with the same title by E.M Forster  and comprising the work of  25 artists this portfolio was curated by Andrew and Kathryn Polk at The University of Arizona Tucson.
Lexicon Series: Duong was included in another portfolio Lithography: Stone to Digital curated by Eunkang Koh at the University of Nevada, Reno. Exploring the interface between traditional and digital printmaking  - both portfolios were exhibited at The Southern Graphics Council Conference in Richmond, Virginia, March 2008
In each print the key image was drawn with crayon and tusche and printed from stone. Further colour runs involving computer generated digital tusche washes were printed from exposed positive working photoplates.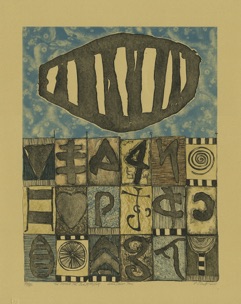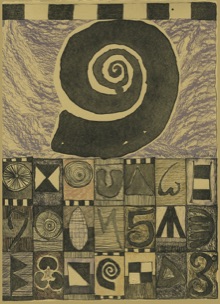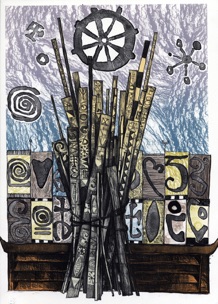 the machine stops: inkjet my foot
lexicon series: tarn
Lithograph 400mm x 300mm 2008
lexicon series gill
Lithograph 400mm x 300mm 2008
stone to digital
lexicon series duong
Lithograph 380mm x 280mm 2008