Aberystwyth Printmakers Print Collectors Club
Established in 2013, Aberystwyth Printmakers Print Collector's Club is a scheme that provides members of the public, the opportunity to purchase high quality Original Prints at affordable prices. Working in collaboration with Master Printer Paul Croft, so far to date, the internationally renowned Welsh artist Mary Lloyd Jones, Ian Phillips (who is fast becoming one of the UK's leading printmakers), Karen Pearce and Stuart Evans have contributted to the scheme.
Artists invited to participate are asked to make a lithograph that reflects their own art practice. Drawing directly on to stone and / or plate, the images are processed and proofed by Croft and subsequently are printed in limited editions of around 25 - 40 impressions. As the images are proofed the artist decides upon the number of colour runs required and indicates which papers are preferred. Whilst prints undoubtedly are based upon sketches made by the artists - these prints are drawn as independent original images and are not considered as reproductions.
All income raised through the sale of these prints helps Aberystwyth Printmakers to continue promoting printmaking, run classes and provide facilities for printmakers living in Aberystwyth, mid and West Wales.
'Speckled Landscape' Flora McLachlan RE (2017)
This year's artist for Aberystwyth Printmakers Print Collectors Club 2017 is the notable Pembrokeshire based artist Flora McLachlan RE. Elected in 2013 as a Fellow of The Royal Society of Painter-Printmakers (RE), McLachlan has exhibited her work across the UK. Working principally in etching and lithography, McLachlan's poetic landscapes are a lyrical vision of dappled light and shade, an enchanted realm populated by mythical guardian animals surrounded by wooded hills and shadowy glades. 'Speckled Land' was drawn after travelling between Brynberian and Aberystwyth and observing the unfolding hills from the car. The hedges and trees are shaped by the wind from the sea and small rushy fields shelter the animals grazing there.
Printed in collaboration with Master Printer Paul Croft, this delightful image was drawn with lithographic crayon and tusche wash and printed in five runs from plate and stone in a limited edition of 30 impressions on Grey Rives paper. Further information about Flora McLachlan can be found at: http://www.floramclachlan.co.uk
Prints are £75 each unframed - please make cheques out to Aberystwyth Printmakers Ltd. For mail order please add £7.50 for shipping (UK) Payment can also be made by PayPal or by electronic transfer - contact Paul Croft for details.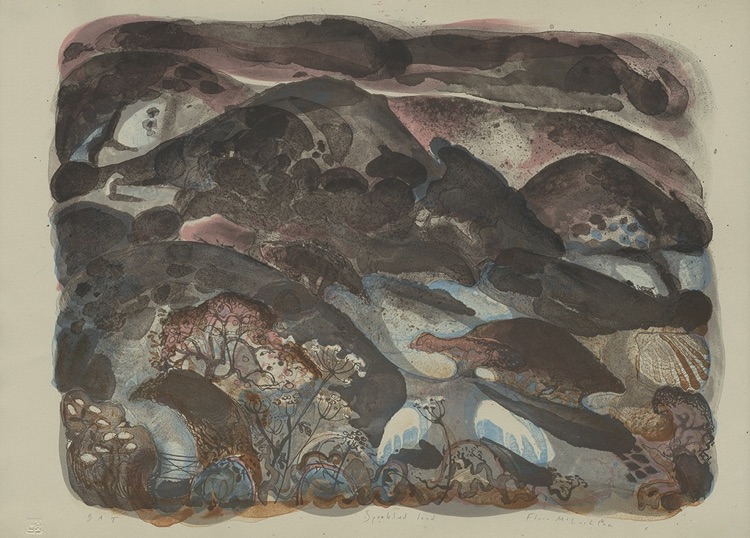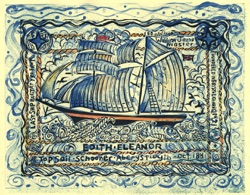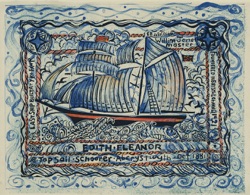 Previous Print Club Prints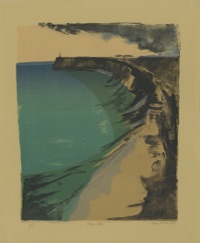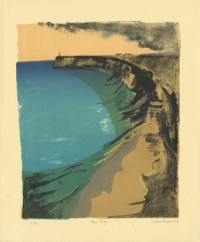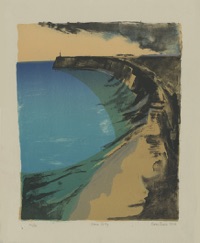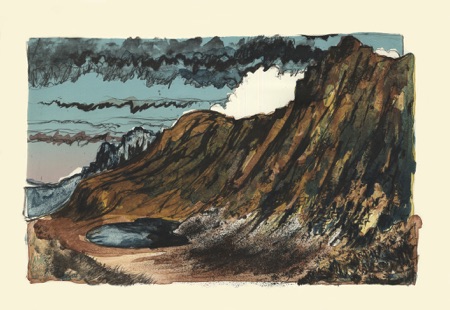 For Ian Phillips (2014), who works principally in linocut, this was an opportunity for him to try a completely new medium and it was curious to see how his approach to drawing and planning was affected by use of crayon and tusche in lithography. Creiglyn 2014 by Ian Phillips was printed as a five-run lithograph - printed from stone and plate in an edition of 30 impressions (20 available). During the last few years Ian has been involved with Pine Feroda, an unique collective of five artists based in Devon and Cornwall, working together to produce collaborative prints on a huge scale - these prints have been a knockout success at this year's Royal Academy Exhibition in London.